Hans Lüdemann – piano & virtual piano
Sebastién Boisseau – double bass
Dejan Terzic – drums & percussion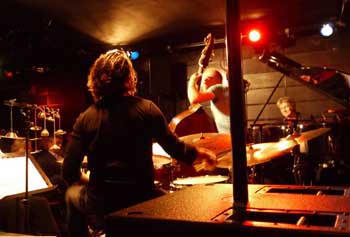 The trio ROOMS opens new perspectives, creates spaces, undertakes joyful musical discoveries. Three European personalities have come together to form this new group: Hans Lüdemann, the German piano virtuoso, Sebastien Boisseau, the French bass improviser and Dejan Terzic, the German-Yugoslawian sound artist on drums. After the premiere within the concert series "die Kunst des Trios" in Köln 2007 and a celebrated appearance at the "Jazz d'Or-Festival" in Strasbourg/France their first CD is released in september 2010 by the Hungarian label BMC.
From the first note this trio has found its own sound and a magical understanding that sets off an effortless flow of musical ideas. The compositions of Hans Lüdemann are starting points and frames, a base on which the musicians find great freedom in improvisation. Each tune tells its own story, be it melancholic moods ("love confessions"), vital African impressions ("le Balaphon blanc et noir") or dark feelings ("Disturbed"). "Jukebox" by Dejan Terzic contributes dance elements, tunes by Sebastien Boisseau add a lyrical component. One of the trademarks of Hans Lüdemann is the subtle extension of the acoustic piano with "virtual" sampled piano sounds. They are used to create microtones "between the keys" and to add color to the unique sound of ROOMS.
Critics
"Complex and unheard - the Jazz played by this trio has something futuristic and opens joyful and relieving perspectives" (DNA, Strasbourg, Nov 9, 2009), the complete text in original version here.

"Moments of delicacy and lyricism meet with ecstatic outbursts, when Lüdemann can hardly keep on his piano stool. The intensity of the concert fascinated an audience that was willing to follow the groups musical journey that impressed again and again with Lüdemanns unique piano technique." (Mittelbadische Presse, Nov 10, 2009)

www.mosaic-jazz.com/2010/11/hans-ludemann-sebastien-boisseau-et.html
www.culturejazz.fr/spip.php?article1788
More reviews: Jazzthetik 2012 (german, pdf, 850 kb), Jazzman 2010 (french/english, pdf, 350 kb), Südkurier 2012 (german, pdf, 51 kb)
CD
Hans Lüdemann – Sebastién Boisseau – Dejan Terzic ROOMS, BMC records 176 (September 2010) listen
ROOMS on youtube
Hans Lüdemann - Sebastien Boisseau - Dejan Terzic ROOMS live at Jazz Forum Budapest, Palace of the Arts September 2010 on youtube:
LOVE CONFESSIONS
LE BALAPHON BLANC ET NOIR
DOUX
JUKEBOX
BEL ETAGE
PRINZ
BABY
ORIENTIERUNG